Here are some artwork from AYBS Fans as well as some AYBS cast members themselves. If you have any artwork to share, let me know! Thanks.
AYBS Fans
Legos


(Lego images above used with permission from Caterina Valente).
---
Fan Drawings

See a larger size image of the artwork here

(The artwork images and text above has been used with permssion of Katie Arrington who runs a blog at http://artstuffbyk.wordpress.com/).
(The artwork image above has been used with permission of Stephanie Staahs-Roquet).
---
Many AYBS-related cutouts made by a fan
http://www.make-origami.com/AnitaBarbour/paper-dolls.php

(Cutout images ©Anita Barbour)

---
Cast Members
Trevor Bannister (Mr. Lucas)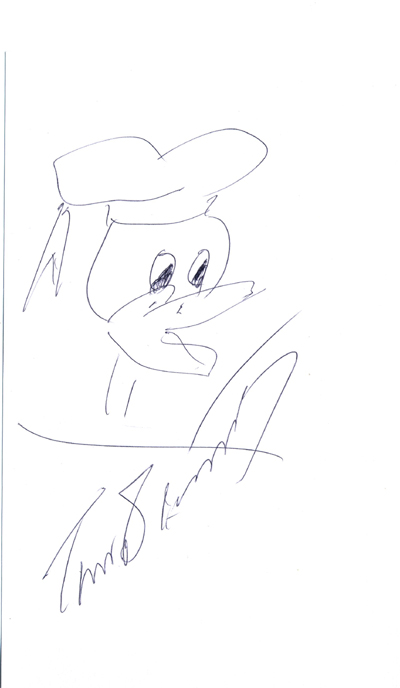 Nicholas Smith (Mr Rumbold)
David Croft (Writer)
Frank Thornton (For a charity)

"This shows just how much I can do any form of art drawing!" (Signed Frank Thornton)
---
Paintings from AYBS Cast
Fleur Bennett (Mavis Moulterd)
Artwork for a cat named 'Pea'.
Artwork for a cat named Milly.
(A very sincere thanks to Ms. Fleur Bennett for the above 2 images).
---


I would like to give credit to whomever drew this awesome picture! Please email me if you are the artist or you know who drew this so I can proper recognition. Thanks!
---
(Used with permission from Terry Dunnett (https://www.terrydunnett.com.au/)).
©2007-current year. All images and materials used on this site are either © Are You Being Served? Central, Warner Brothers Video/BBC or other respective copyright holders as indicated on the site where appliciable. Graphics pertaining to the site are © Are You Being Served? Central and may not be reproduced or translated in any form or by any means without the written permission of the author. This is a non-profit publication not intended to infringe upon the rights of any publishing corporation and copyright remains at source. All rights reserved.
DISCLAIMER/PRIVACY POLICY