Here are some artwork from AYBS Fans as well as some AYBS cast members themselves. If you have any artwork to share, let me know! Thanks.
AYBS Fans
Legos


(Lego images above used with permission from Caterina Valente).
---
Fan Drawings

See a larger size image of the artwork here

(The artwork images and text above has been used with permssion of Katie Arrington who runs a blog at http://artstuffbyk.wordpress.com/).
(The artwork image above has been used with permission of Stephanie Staahs-Roquet).
---
Many AYBS-related cutouts made by a fan
http://www.make-origami.com/AnitaBarbour/paper-dolls.php

(Cutout images ©Anita Barbour)

---
Steve Lilly


Steve Lilly has created beautiful artwork from AYBS characters and the portrait gets it 'official' unveiling on Friday 3rd of October at the Birmingham (UK) Comedy Festival. Please feel free to join him on Friday 3rd October at the Birmingham Pen Museum in the Jewellery Quarter for a pre-exhibition launch including the unveiling of 'Are You Being Served?'



If any of you are interested cards and fridge magnets are available now, Steve will collect the limited edition prints from the printers on Saturday and sometime soon he will be taking stock of mugs. If interested, contact Steve for more information.
A short biography

Steve Lilly is an award winning artist from Birmingham. His work is now becoming very collectable with many of his works in private collections. Adopting a flexible approach to subject matter has created a very varied portfolio. Steve's art has received praise from figures within the comedy and horror industries with work being showcased by numerous groups and fan clubs as far away as New Zealand and America. 
The Dad's Army Museum in Thetford recently agreed to an exclusive merchandising contract. The Laurel and Hardy Museum is also stocking Steve's merchandise. Steve is "The Depot Artist in Residence" with the official On The Buses fan club. He has strong links with the Tony Hancock Appreciation Society, Birmingham Comedy Festival, Hi, De, Hi fan club, Laurel and Hardy Saps At Sea Tent (Honorary Life Member), Laurel and Hardy Laughing Gravy Tent and numerous other comedy related groups.
"I really strive to capture the expressions and mannerisms that are so characteristic of the people I am trying to portray. I'm not just looking for a likeness but an essence unique to each character that will bring them to life on the paper. I think I owe these fantastic actors something for all the fun and laughter they have brought to me over the years"
Steve has over 20 years experience creating unique pieces of pencil rendered artwork. Every portrait is created with meticulous attention to detail and is built up over many hours by blending layers of finely laid graphite.
"The beauty of a graphite portrait lies in the depth of tone and contrast achievable by using varying grades of pencil and differing pressures of application. It is an ideal medium for expressing texture and detail."
"I think your work is quite excellent. Congratulations".....David Croft OBE
Birmingham Comedy Festival

The Birmingham Comedy Festival has been drawing (pardon the pun) attention to the city's vibrant comedy scene since 2001 when the debut festival hit the road running thanks to appearances from Peter Kay and Sean Lock. Since then, the festival has grown into one of the largest independent arts festival in the region. Alongside a vast range of new local acts, the festival has featured such A-list heavy-hitters as Lee Evans, Michael McIntrye, Frankie Boyle, the cast of cult TV sketch series The Fast Show, Lenny Henry and Ross Noble.


The 2nd most popular event of last years festival was ... Steve Lilly! Beaten by John Bishop ... and beating the Hairy Bikers! ...(This was based on unique visitors to the official festival website).


"Each portrait is remarkable not only for the artistic skill involved, but
also for how it manages to capture so perfectly the expressions and
mannerisms which bring each character to life" …….Jacqui Gray (Journal)
  "For sheer entertainment, this laugh-out-loud festival can't be beaten..." - Guardian

     "A top line-up of quality stand-up comedy, film, theatre, visual arts, cabaret and much more." - Visit England
The Venue
The Pen Museum contains an amazing collection of over 5,000 objects related to the Birmingham steel pen trades and the history of writing. There are plenty of activities for families including a Victorian school room, special museum trails and interactive machines. Patron of the museum rather aptly for me is Jasper Carrot.
Please feel free to contact Steve for more information.
Cast Members
Trevor Bannister (Mr. Lucas)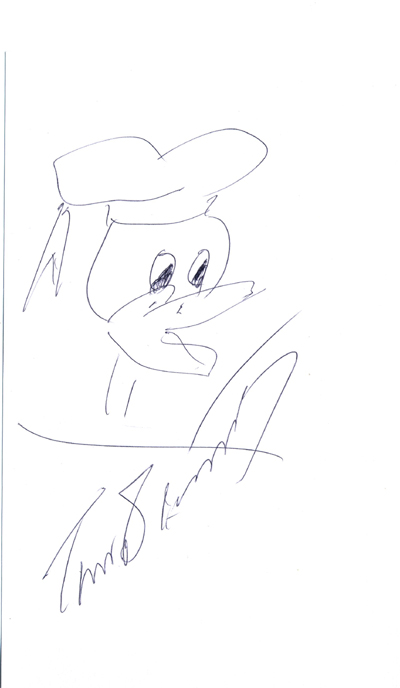 Nicholas Smith (Mr Rumbold)
David Croft (Writer)
Frank Thornton (For a charity)

"This shows just how much I can do any form of art drawing!" (Signed Frank Thornton)
---
Paintings from AYBS Cast
Fleur Bennett (Mavis Moulterd)
Artwork for a cat named 'Pea'.
Artwork for a cat named Milly.
(A very sincere thanks to Ms. Fleur Bennett for the above 2 images).
---


I would like to give credit to whomever drew this awesome picture! Please email me if you are the artist or you know who drew this so I can give proper recognition. Thanks!
---
(Used with permission from Terry Dunnett (https://www.terrydunnett.com.au/)).
©2007-current year. All images and materials used on this site are either © Are You Being Served? Central, Warner Brothers Video/BBC or other respective copyright holders as indicated on the site where appliciable. Graphics pertaining to the site are © Are You Being Served? Central and may not be reproduced or translated in any form or by any means without the written permission of the author. This is a non-profit publication not intended to infringe upon the rights of any publishing corporation and copyright remains at source. All rights reserved.