"This new show features 15 comic songs from NC's very rich repertoire. There are the usual favourites – Mad dogs, Stately Homes – but I came across some relatively unknown ones – Bar on the Piccola Marina, Could you please oblige us with a Bren Gun (about the Home Guard in 1943), another on package holidays with the American market in mind and topping it all is that I live some 6 miles from where he was born!!"-Gordon Peters
Past Events
Thora Hird Tribute
---
Plays/Musicals
(July 23, 2011) A Celebration of Flanders and Swann at the Normansfield Theatre.
(June 23, 2007) Afternoon Delight
(May 25, 2007)Comedy Tonite! at the Yvonne Arnaud Theatre.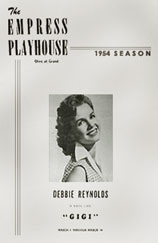 "Gigi"
The Empress Playhouse, St. Louis - March 2, 1954
Gordon Peters as Victor

(Picture and info used with permission of Holly at a past site http://www.debbiereynoldsonline.com/).
"Oliver" (Fagin)
"7 Year Itch"
"Boeing Boeing"
TV Plays
(1972)"Comedy Playhouse" - Born Every Minute (Ticket collector)
An Interview with Gordon Peters
1>How did you get into show business?
My parents ran an amateur concert party when I was very young and my sister and I would sit on the top of the stairs and listen to them rehearsing in the lounge below. Suppose it caught on then. Years later, in my teens, I would take part in a concert party at a youth club which my mother ran. When I was 17 1/2, I joined the Royal Navy and on which ever ship I was on I would take part in any entertainment there was.
After demobilisation at 20, I emigrated to S. Rhodesia as a clerk in Standard Bank of S. Africa. There was no TV in those days so they called the cinema the bioscope. If you could do any sort of entertainment you were invited to all and every party that was going. During my 3 years there, I entered a talent competition for the whole of Africa and came second. This really did get me going so I came home and struggled ever since!! So full of ups and downs but I have no regrets.
2>Favorite aspect of performing live on stage?
Doing cabaret and going well. Love the intimacy with the audience. Being alone on a stage and feeling at one with the audience. Hearing them laugh.
TV comes next then last filming. So much hanging around and these days especially very little rehearsing with the cast.
3>You appeared in a few David Croft series. How were you discovered and chosen for the shows he wrote/directed?
David saw me in a summer show and he was brought up on that kind of show-End of the Pier. He knew that the comic in those shows could act as well as comic and used many such types. He did audition me for one series which I didn't get. Just as well as it didn't take off.
4>You also did a "Gordon Peters Show" for a year. I recognize a few artists that were on your show:
Yes several of them and I was very chuffed they took part. Several asked afterwards why didn't I get a second series? But that's another story. 
Allo Allo' fame
Gordon Kaye    
In 1 episode. Asked me afterwards could I get him another part please? Shortly afterwards he got 'Allo 'Allo and never suggested me for a part in his big break which you know was very successful!!!!

Jack Haig  
Very Funny comic and a great face for TV. Nice man.

Rose Hill.  
So delighted when she was in the show. So admired her from intimate revue in the West End.

Excellent deed for so many comics!