Discography
U.K DISCOGRAPHY
DECCA RECORDS - The Singles (45r.p.m.)

CHERRY PIE / THERE'S GONNA BE A DAY (F11236) 1960
OUT OF LUCK / UNLESS YOU MEAN IT (F11259) 1960
MYSTERY GIRL / THE BIG WHITE HOUSE (F11315) 1961
THIS PULLOVER / WHY AM I LIVING? (F11348) 1961
(Note; "Why Am I Living" from the film "Rag Doll")
I SEE YOU / OH! YOU BEAUTIFUL DOLL (F11375) 1961
EVERY BREATH I TAKE / WALK AWAY (F11394) 1961
HEY LITTLE GIRL / TWIST MY WRIST (F11412) 1961 (Picture cover)
(Note; From the Bri-Lon Sweater Film)
PRETTY JENNY / YOU CAN DO IT IF YOU TRY (F11511) 1962
AS YOU LIKE IT / IT'S ABOUT TIME (F11620) 1963
(Note: "It's About Time" from the ATV series The Human Jungle. Episode "The Flip-Side Man") (See E.P. listing)
Album (33 1/3 r.p.m)
JESS FOR YOU (Decca LK4390) 1961 (Issued only in 'Mono')
(Walk Away/Why Am I Living/That's My Weakness Now/You Too/Rag Doll/Cherry Pie/(I Wanna) Love My Life Away/Little Ship/An Angel Cries/It Tears Me All To Pieces/Out Of Luck/Mystery Girl)
E.P'S (45 r.p.m)
JESS CONRAD (Decca DFE6666) 1961
(Mystery Girl/Just The Two Of Us/ (I Wanna) Love My Life Away/Maybe You'll Be There)
TWIST MY WRIST (Decca DFE6702) 1962
(Twist My Wrist/It Tears Me To Pieces/Walk Away/Every Breath I Take)
THE HUMAN JUNGLE (Decca DFE 8524) 1963
(With the Rhet Stoller Group)
(It's About Time/I Don't Care/One Of These Days/Down Home Tonight)
COLUMBIA RECORDS - The Singles
Take Your Time / I Know You (DB 4969) 1963
Pussycat / Tempted (DB 7223) 1964
Things I'd Like To Say/ Don't Turn 'Round (DB 7561) 1965 (Note: "Things I'd Like To Say" from the film The Golden Head )
PYE RECORDS
Hurt Me / It Can Happen To You (7N 15849) 1965 (Note: These tracks were produced by legendary record producer Joe Meek)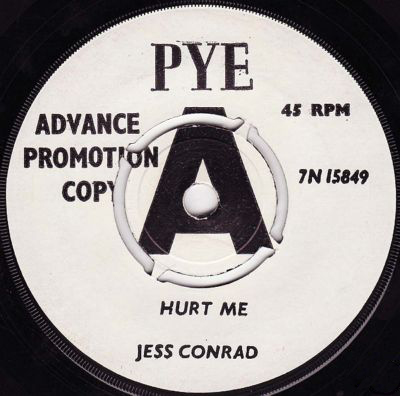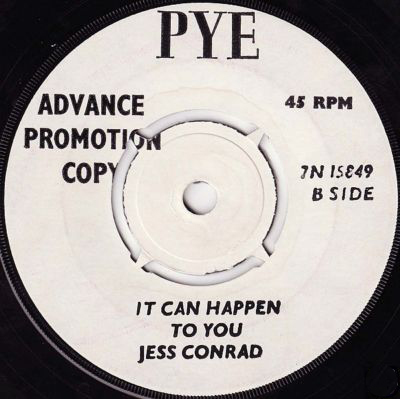 Little Bit Of Loveliness / Tin Pan Alley Rag (PY 133) 1966 (Recorded during a tour with Kathy Kirby. Issued in South Africa only)

PRESIDENT RECORDS
The Other Side Of Life / See The Tinker Ride (PT 269) 1969
Crystal Ball Dream / Pussycat (PT 292) 1970 (Note: "Pussycat" is a different song to that of Columbia DB 7223)
Here She Comes Again /My Idea (PT 357) 1971
ANTIC RECORDS
These Are Not My People / Yesterday Man (K11508) 1974(Recorded under the name 'MEN' this was with Troy Dante, also Dave Dee (of Dozy,Beaky,Mick and Tich fame) with Dave Dee producing,Junior Campbell of Marmalade plays guitar and backing vocals) The label was a subsidiary of Warner Brothers Records in the UK.
E.M.I.
Save It For A Rainy Day / Lock Up Your Daughters (EMI 2682) 1977 (Initial pressings came with a plain black and white picture cover)
K-TEL RECORDS
Kenny Everett's 'World's Worst Records Show' (NE1023) 1979 (Green Vinyl Pressing) Features Jess's re-recordings of "Cherry Pie", "This Pullover" and "Why Am I Living". (Plus other artists)
COMPACT DISC ALBUMS
The Andrew Lloyd Webber Songbook (Pickwick Label PK521) 1993 (Jess sings two songs "One More Angel In Heaven" from the musical "Joseph & The Amazing Technicolor Dreamcoat" and ""Hosanna" from "Jesus Christ Superstar")
(Note: This CD has been re-issued with other printed covers , under the title THE ANDREW LLOYD WEBBER COLLECTION PWKS 4065 (Carlton Sounds Label)
(Also features Carl Wayne. Paul Jones, Stephanie Lawrence, Fiona Hendley)
JESS CONRAD-GOLDEN BOY OF THE SIXTIES (K-Tel Label ECD 3559)
This CD is the most interesting of Jess's more recent recorded work (2001) It features one new song "Salute The Kings & Queens of Rock 'n' Roll" some re-recordings of some of his sixties Decca cuts, plus previously unreleased recordings from the 1980's and 90's, from rock 'n' roll to MOR. 20 Tracks in all.
JESS FOR YOU (The 2003 CD Album)
Available ONLY at Jess's shows and on-line at this website (See JESS' SHOP)
VINYL- PRIVATE PRESSING 7" E.P. (33 1/3 r.p.m)
One other 'Collectable' record by Jess is his 1978 'Private Pressing' on the SRT Label.
This was sold at performances in theatre, cabaret etc. and titled "A SOUVENIR OF AN EVENING SPENT WITH JESS CONRAD" SRTS/CUS 046.
Tracks are; BE-BOP-A-LULA / FIRST THING MONDAY MORNING / WITHOUT A WORRY IN THE WORLD / DIZZY MISS LIZZIE / GIVE ME A STAR / CRYSTAL BALL DREAM. Issued in a picture cover E.P sleeve.
NEW FOR 2006/7. "Jess For You" the 1961 album and Decca singles re-mastered.
(Vocalion Label-CDK4326)
(Thanks to Graham Hunter for the compilation).
Audio/Video/Books/Official Websites
Official Website: http://jessconrad.com/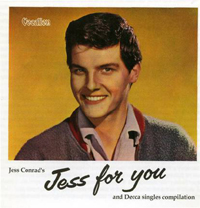 "Jess For You"-The Decca singles re-mastered.(Vocalion Label-CDK4326)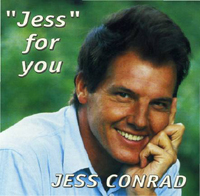 "Jess For You "– Special Edition .
(Click any CD cover above to go to Jess' Merchandise Page).
---
Listen to samples of songs by Jess Conrad
Any Dream Will Do
Mystery Girl
This Pullover