TV Appearances

"Are You Being Served"
"The Les Dawson Show"
"Good Old Days"
"Living Legends"
"Children's ITV"(Personal appearances on several occasions)


Presenter

"Bruce Forsyth Generation Game"
Devised & Presented a Game and appeared in show twice.

"Larry Grayson's Generation Game"
Devised & Presented a Game and appeared in show 3 times.

"Tjocka Slakten"(Swedish)
Devised & Presented a Game.

"Um Laufenden Band"(German)
Devised & Presented a Game.

"Thames at Six" News item - "My cat can sing!"

"Coast to Coast" - A profile of my work "The Windfalls" Series 1+Series 2
Created & wrote this 6 part Children's Series.
AYBS Stats
AYBS Timeframe: 1977
Episodes: "Founder's Day"
Writer/Director
"Windfalls"
Created, wrote & directed a 13 part Animation Series.
This was made at "FilmFair" where "Paddington Bear" was produced.
(Judy Dench was sent my script, loved it & agreed to 'voice' original pilot.
This series was sold worldwide).
Writer
"Greenfingers"
Publicity Promo: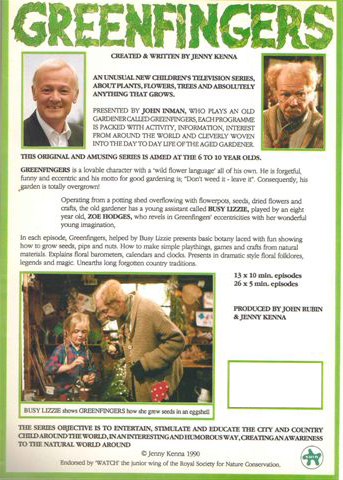 Video clip of the pilot can be seen here
Writer

"The Other Man"
Created a 'sit-com' idea that was developed by London Weekend TV.
"Play & Learn"
Wrote & illustrated a monthly story.
"Watch"
Wrote & illustrated various nature-truth stories for several editions.
(This was done in association with "The Royal Society for Nature Conservation").
One edition was done for "Gales Honey".
"The Writers' Guild"
An article about Children's TV.

Trip to the US in Oct 2018
Trip summary and Interview while done in the US
Video Work
"Learn To Love Nature"
Wrote/Directed 4 videos for UK sales.
Audio/Video/Books/Official Websites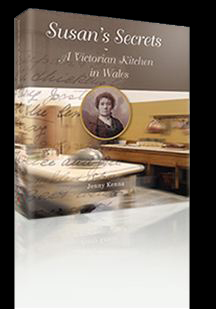 Susan's Secrets-A Victorian Kitchen in Wales
By: Jenny Kenna
Published May 19, 2009 by Ceiniog
ISBN-10: 0954982819
ISBN-13: 978-0954982812
(Now gone into a second edition.)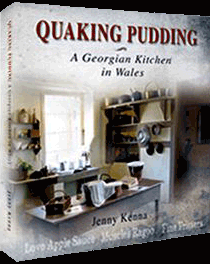 Quaking Pudding- A Georgian Kitchen in Wales
By: Jenny Kenna
Paperback
Published October 30, 2012 by Ceiniog
ISBN-10: 0954982827
ISBN-13: 978-0954982829

Background to the book

An original edition of The London Art of Cookery by John Farley in 1807 was inherited by Jenny's husband. Generations of his family considered this treasure too precious to be displayed so, carefully wrapped in tissue paper, the book had always been stored out of sight.

When the time had come for it to be unwrapped and its contents examined, Jenny was fascinated. She was holding culinary history in her hands and, as she pored over the old recipes, she felt compelled to delve into the past and discover why this book had belonged to her husband's family, the Allen's.

The trail took her back to late eighteenth-century Cardiff, and a surprise! She discovered that the family had owned a thriving catering and confectionery business in Duke Street, adjacent to Cardiff Castle. The London Art of Cookery was one of the books used at the Allen's establishment where they prepared for civic banquets, hunt balls and weddings. 

Jenny was so inspired by these discoveries and this led to her writing 'Quaking Pudding - A Georgian Kitchen in Wales', to link this family history with the food they had prepared. So, she cooked her way through the ancient book that's packed with old recipe favourites and many unusual ones as well, such as A Shoulder of Mutton Surprised, Quaking Pudding, Beef Gobbets, Pickled Nasturtium Seeds, Whigs and Love Apple Sauce. Eventually 68 recipes were selected for 'Quaking Pudding - A Georgian Kitchen in Wales', and as in her last book, Susan's Secrets - A Victorian Kitchen in Wales, Jenny assembled an array of friends, actors, television personalities, writers and chefs to also test and taste many of these long forgotten recipes.



Past Events
Wednesday October 29, 2014: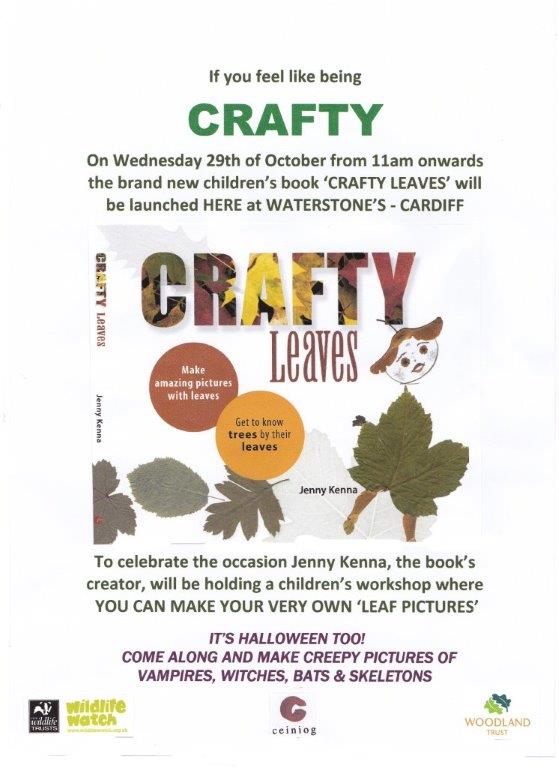 ---
Book Launch party for "Quaking Pudding-A Georgian Kitchen in Wales" Held: Thursday the 1st of November 2013; 11.30am to 1.30pm at the Norwegian Church in Cardiff Bay.

| | |
| --- | --- |
| Jenny with poster of cover | Jenny cutting the cake |
| Guests travelling to book launch | Jenny signing a book |
Wales Online story can be seen at:
http://www.walesonline.co.uk/showbiz-and-lifestyle/showbiz/2012/11/14/the-200-year-old-welsh-kitchen-recipes-being-brought-back-to-life-91466-32226339/
Miscellaneous
"John Chambers Wild Flower Seeds"
My own range of seeds packets in association with "The Windfalls"-wrote short stories & illustrations for all of the covers.
"Pure Nostalgia"
A range of Calico Bags. Illustrated and wrote slogans for the products.
"TV Times"
Designed logo for feature "Stars & Gardens".
German Shampoo
Designed motif for the product.
Gallery



John & Jenny backstage 1976





1976 at a theatrical ball at the Dorchester Hotel in London.
(All images and video on this page used with permission from Ms. Jenny Kenna).