TV Appearances
(1999)Doctor Who: The Crusade (Saphadin)
(1998)Grafters Ep 1.4 (Alf)
(1996)"The Bill"- With This Ring
(1996)"Our Friends in the North"-1964 (Mr. Braniff)
(1995)"Peak Practice"- Tender (Angus Belfer)
(1995)My Good Friend-Ep 1.3(Man on the Bench)

(1993)"Then Churchill Said to Me"- Operation Panic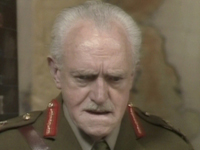 ©BBC

(1992)London's Burning-Ep 5.3 (Gardener)
(1991)The Black Candle (George Fields)

(1987)"Blackadder the Third"- Amy and Amiability (The Duke of Cheapside/Father)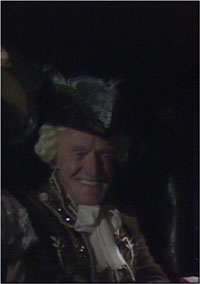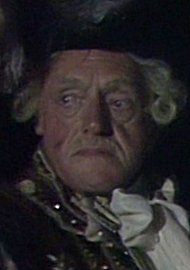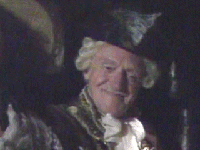 All 3 images ©BBC

(1985)"The Day the Universe Changed"- A Matter of Fact: Printing Transforms Knowledge (Judge)
(1984)Lady is a Tramp-Ep 2.7(Magistrate)
(1983)The Dresser (Charles)
(1983)The Baker Street Boys (Bert)
---The Case of the Captive Clairvoyant Parts 1+2
---The Adventure of the Disappearing Dispatch Case: Part 2
(1982)Sink or Swim-Making Amends (Man on motorbike)
(1981)"Keep It in the Family"- The Inferior Decorator (Fire Chief)
(1976-1981)"When the Boat Comes In" (Stan Liddell/Mr Redshaw/Chairman)
(1980)"Potter" Ep 2.6 (Fred)

(1980)George and Mildred (Commissionaire)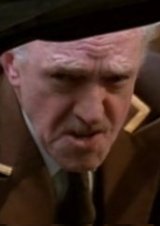 ©Cinema Arts International Production/Chips Productions

(1979)Chalk and Cheese-Spasms (Doctors)
(1979)"The Other One"-Ep 2.2 (Barman)
(1978)Margie and Me (Landlord)
(1978)Second City Firsts-The Back Page (Sergeant)
(1978)The Voyage of Charles Darwin-In the Distant Future, Light Will Be Thrown Upon the Origin of Man, and His History (Doctor)
(1978)The Losers-All Down in Black and White (Referee)

(1978)"Sykes"-The Hypnotist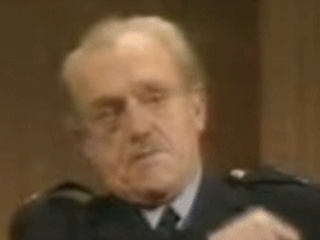 ©British Broadcasting Corporation (BBC)

(1977)"Ripping Yarns"- The Testing of Eric Olthwaite (Chauffeur)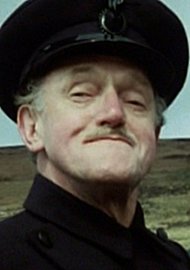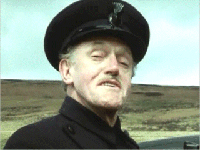 Both images ©BBC

(1977)"The New Avengers"- Dead Men Are Dangerous (Headmaster)

©The Avengers Enterprises/TF1/IDTV Production

(1976)Yus My Dear-The Bargain (Police Sergeant)
(1976)"Softly Softly":Task Force- Not with a Bang... (Cummings)
(1976)"Second Verdict"- Murder on the 10.27 (Wilson Hepple)
(1976)"Bless This House"-The Frozen Limit (Electricity Board Man)

(1976)The Likely Lads (Joe the Landlord)

©Anglo-EMI Productions Ltd.

(1975)The First Train Now Arriving
(1975)Tarbuck and All That!-Eps 1.3+1.4
(1975)This Week-1844 (Ben Embleton)
(1975)"Sykes"- Night Out (Lord Mayor of London)
(1974)My Name Is Harry Worth- The Go-Between (Businessman)
(1974)The Larry Grayson Hour of Stars
(1973)"Bless This House"-The Loneliness of the Short Distance Walker (News Reader)
(1973)"Thirty Minutes Worth" Ep 2.1
(1973)"Special Branch"- Assault (Receptionist)
(1972)"Sykes"- Cat (Sergeant)
(1972)"Bless This House"-Love Me, Love My Tree (House Purchaser)

(1972)"Upstairs, Downstairs"- A Special Mischief (Clerk of the Court)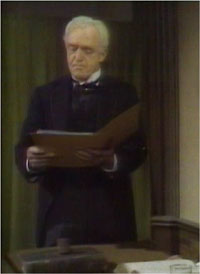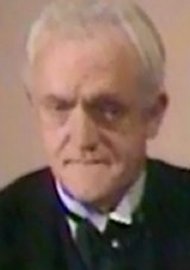 Both images ©London Weekend Television (LWT)

(1972)"Dead of Night"- Return Flight (Police Inspector)
(1972)Hide and Seek (First workman)
(1972)"Doctor in Charge"- Long Day's Journey Into Knighthood (Garage Man)

(1972)Au Pair Girls (Rathbone)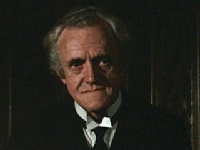 ©Tigon Pictures


(1972)"Father Dear Father"- Unacustomed as I Am (Vet)

(1972)Mutiny on the Buses (Policeman in Safari Park)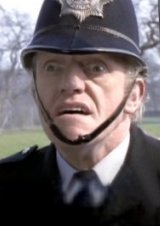 ©Hammer Films/Anglo-EMI

(1972)Burke & Hare (Second Guard)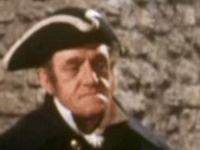 ©Armitage

(1971)Please Sir!-Nemesis for Norman (Bert)
(1971)Bachelor Father-Gently Does It (Policeman)
(1971)Advent of Steam-The Runaway Parts 1+2 (Riddle)
(1970)"On the Buses"- Christmas Duty (The Policeman)
(1970)Ours Is a Nice House-Uproar at the Opera (Detective)
(1970)For the Love of Ada-The Football Match (Fred)
(1970)"Steptoe and Son" - Any Old Iron (Policeman)
(1970)"Randall and Hopkirk (Deceased)"- Money to Burn (Uniformed Policeman)
(1970)Frost on Sunday-Ep 2.5
(1970)The Misfit-On the Place of Women in the Home (Landlord)
(1970)My Partner the Ghost-Money to Burn (Uniformed Policeman)
(1970)"Department S"- The Last Train to Redbridge (Hooper)
(1970)It's the Only Way to Go
(1969)"Department S"- One of Our Aircraft Is Empty (1st Maintenance Man)
(1969)"Father Dear Father"- Baby Won't You Please Come Home (Boat Owner)
(1969)The Magnificent 6 1/2:Peewee Had a Little Ape (Animal Trainer)

(1969)"Dad's Army"- Branded (The Doctor)

©BBC

(1969)"Dr. Finlay's Casebook"- Opportunity and Inclination (PC Gordon)
(1969)Scott On...-The Seven Deadley Sins
(1969)"The Borderers"- Wedlock (Ker of Fernihurst)
(1969)The Magnificent Six and 1/2:Peewee Had a Little Ape (Adult)
(1969-1970)Hark at Barker (Policeman)
(1968-1970)The Dick Emery Show

(1968)"Harry Worth"- James Bond: Where Are You? (Police Operator)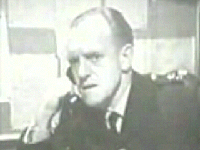 ©BBC

(1968)Curse of the Crimson Altar/The Crimson Cult (Sergeant Tyson)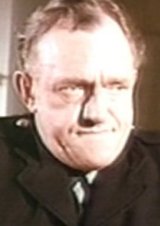 ©Tigon British Film Productions

(1968)The Dickie Henderson Show-Be a Clown

(1967)Quatermass and the Pit/Five Million Years to Earth (Electrician)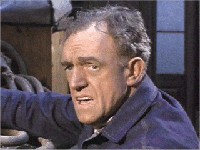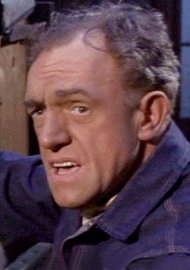 Both images ©BBC

(1967)Cuckoo Patrol (Policeman)
(1967)The Further Adventures of Lucky Jim-Jim's In

(1966)Al Read Says What a Life!-Ep 1.3
(1966)Runaway Railway(Waterhouse)
(1966)Meet the Wife-Christmas Travel (Ticket Inspector)

(1966)Daleks' Invasion Earth: 2150 A.D. (Wells)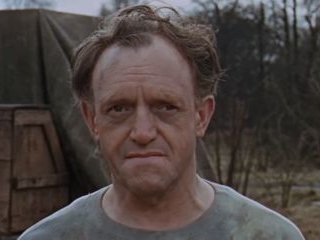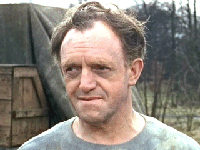 Both images ©British Lion Film Corporation

(1966)"The Troubleshooters"/Mogul- Do Your Best for the Lads (Cummings)
(1965)"The Troubleshooters"/Mogul- A Job for Willy (Charge Hand)

(1965)Gideon's Way/Gideon C.I.D.-How to Retire Without Really Working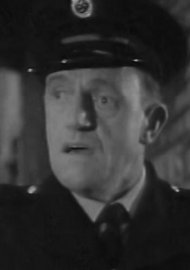 ©New World Production/Incorporated Television Company (ITC)

(1965)"Doctor Who" (Saphadin/Daxtar)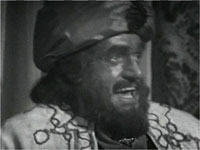 ©BBC

(1965)The Likely Lads-Far Away Places (Labour Exchange clerk)

(1965)The Secret of My Success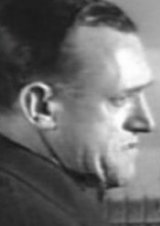 ©Metro-Goldwyn-Mayer (MGM)

(1965)"Danger Man"/Secret Agent - Have a Glass of Wine (Chateau Guide)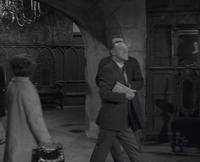 ©Incorporated Television Company (ITC)

(1965)Dead End Creek (Uncle Bob)
(1965)Doctor Who (Daxtar/Saphadin)
(1965)World of His Own-Ep 2.4
(1965)The Lance Percival Show-Eps 1.5+1.6
(1965)The Bed-Sit Girl-The Breakfast
(1965)Runaway Railway (Waterhouse)
(1964)Sergeant Cork-The Case of the Dutiful Murderer (Supt. Percy)
(1964)The Valiant Varneys Ep 1.4
(1964)"Vacation Playhouse"- He's All Yours (Constable)
(1964)Story Parade-The Elephant You Gave Me (Warrant Sergeant)
(1964)Love Story-The In-Between Stage (Mitcham)

(1964)A Hard Day's Night (Policeman following Ringo)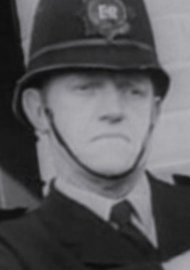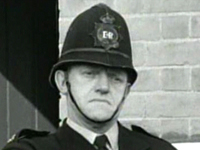 Both images ©Proscenium Films

(1963)Sergeant Cork-Case of the Reluctant Widow (Inspector Moss)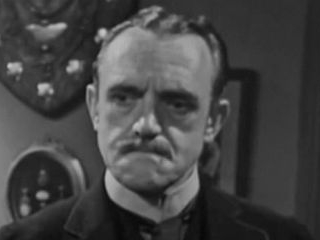 ©Associated Television (ATV)


(1963)Murder at the Gallop (Police Photographer)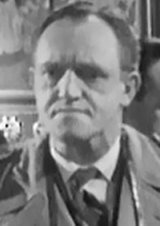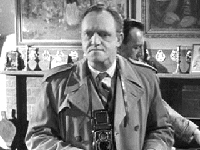 Both images ©Metro-Goldwyn-Mayer British Studios

(1963)Ghost Squad-The Grand Duchess (Security Man)
(1963)"Corrigan Blake"- Let's Go Home (Sergeant Davies)
(1963-1965)Skyes and A...

(1963)Espionage-The Weakling (Medical Officer)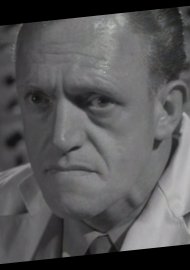 ©Associated Television (ATV)/National Broadcasting Company (NBC)/Incorporated Television Company (ITC)

(1962)Steptoe and Son-The Piano (Policeman)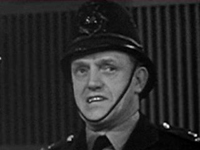 ©BBC

(1962)"Benny Hill"
(1962)Raise Your Glasses-Ep 1.2
(1962)Drama 61-67-Drame '62:Court Martial (Major Abbott)
(1962)"Zero One"- The Liar
(1962)Hugh and I-Love Thy Neighbor
(1962)"Out of This World"- Pictures Don't Lie (Major Race)
(1961)The Pursuers-Suspect(Scott)
(1961)Probation Officer-Ep 2.36 (Sgt. Matthews)
(1961)Deadline Midnight
---Man in a Frame (Granville)
---Letter from a Lady (Landlord)
(1961)Harpers West One Eps 1.3-1.4+1.7 (Charlie Wilson)
(1961-1962)Citizen James

(1961)The Hellfire Club (Turnkey)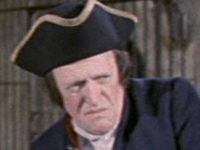 ©New World Productions

(1961)"Adventure to Order" (The King)
(1961)The Arthur Askey Show (Police Inspector)
(1960)Fred Emney Picks a Pop (Engineer)
(1960)Here's Harry-The Umbrella
(1960)Saturday Night and Sunday Morning (Policeman At Window Breaking)
(1960)Scotland Yard-Hit and Run (Albert Avon)

(1960)The Trials of Oscar Wilde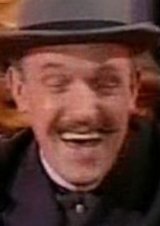 ©Warwick Productions/Viceroy Films Ltd./Warwick Film Productions

(1960)Arthur's Treasured Volumes-A Blow in Anger (Police Sergeant)
(1959)Garry Halliday-The Big Showdown(Glasgow distributor)
(1959)The Ugly Duckling (Reporter)
(1959)"Frankly Howerd" Ep 1.2
(1959)"Hancock's Half Hour"
---The Wrong Man
---The Beauty Contest
---The New Nose (Arthur Dilwater)
(1959)"Dial 999"- Deadly Blackmail (Cooper)
(1959)Glencannon-Crocodile Tears (Policeman)

(1958)A Night to Remember (Lookout Reginald Lee)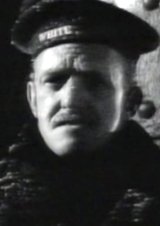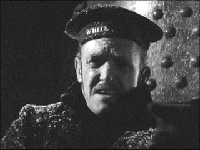 Both images ©The Rank Organisation

(1958)The Woman Eater (Desk Constable)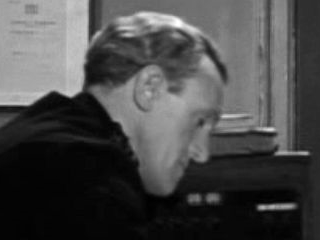 ©Fortress Film Productions Ltd.

(1958)The Sky Larks(CPO Turner)

(1958)Square Peg (Workman)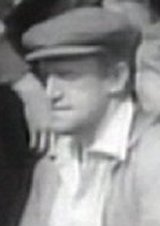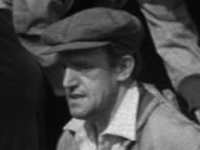 Both images ©The Rank Organisation

(1958-1965)Benny Hill
(1957)Mister Charlesworth-The Live Wire (Chalker)
(1957)Kill Her Gently (Constable Brown)
(1957)The Scamp/Strange Affection (Constable)
(1956)Pantomania, or Dick Whittington
(1956)Fun at St. Fanny's (Horsetrough)
(1956)Stars in Your Eyes (Grimes)
(1955)The Time of His Life (Prison Warder)
(1955)"The Benny Hill Show"
(1954-1957) Emney Enterprises

(1951)Captain Horatio Hornblower R.N. (Lydia Crewman)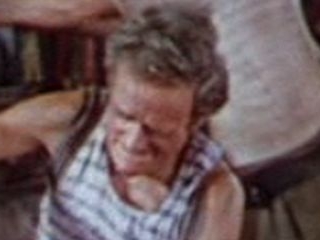 ©Warner Bros.



Images in this section used with permission from:
anonymous contributors
http://www.aveleyman.com
http://movie-dude.com/Roger%20Avon.htm