"Best of the Britcoms"
Author: Garry Berman
Publisher: Natl Book Network
Date: September 1, 1999
ISBN-0-87833-160-3

See relevant pages here:
http://www.aybscentral.net/3d-flip-book/best-of-the-britcoms-book/




"30 Years of British Comedy"
Author: Aaron Berman
Publisher: BearManor Media
Date: October 1985
ISBN-10: 1593931433
ISBN-13: 978-1593931438

See John Inman Interview here:
http://www.aybscentral.net/3d-flip-book/john-inman-interview-1/

Book excerpt used with permission from Aaron Berman. You can buy the book "30 Years of British Comedy" with this interview and many others at Amazon.
---



Arthur English
"Through the Mill and Beyond"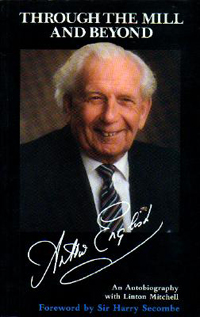 View pages from book here:
http://www.aybscentral.net/3d-flip-book/arthur-english-through-the-mill-and-beyond/


(Pictures in the link above used with permission from http://follyfoot-tv.co.uk/ . Thanks to Rena for the scans).


Wit Knits
Author(s): George Hotler, Gyles Brandreth
Publisher: Collins
Date: October 1985
ISBN-10: 0-00-218168-1
ISBN-13: 978-0-00-218168-6 (UK edition)

Book Cover ©Collins/Willow Books





"Of all the fun jumpers I've worn on television it is the pattern for this
one that has been most sought-after by viewers. It's a personal favorite that
I sometimes wear back to front-so that I can say that I've got a
bear behind! It looks good on me, but it looks even better on John Inman."
"Cockatoos are superb, stylish, sophisticated creatures which come from Australia,
New Guinea and the Phillippines. John Inman is superb, stylish, sophisticated
and comes from Blackpool. Overleaf he's modelling one of my favorite Wit Knits.
I hope you like it too."


(Images and quotes used with the permission of the author Gyles Brandreth).
---
Some Joe You Don't Know: An American Biographical Guide to 100 British Television Personalities
Author: Anthony Slide
Publisher: Greenwood Publishing Group
Date: 1996
ISBN-10: 0313295506
ISBN-13: 9780313295508
# of pages: 271 pages


Book cover ©Greenwood Publishing Group
---
Curtain Up!
Author: John Inman

Type: Paperback (96 pages)

Publisher: Heinemann

Published:October 12, 1981

ISBN-10: 0434943800

ISBN-13: 978-0434943807

Front and back book covers ©Heinemann



Really neat book!